Your feedback is important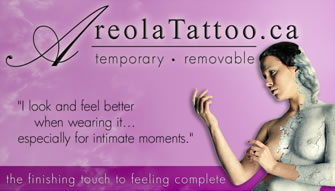 We are working with women who have had or are planning to have a mastectomy.
We'd love to hear what you think about "wearing" a temporary tattoo. As a thank you -- you'll receive a free sample sheet (with 6 prototypes) when you complete the Focus Group Survey. Please complete it now.
Please note that your personal information submitted will be kept confidential and will not be sold.
If you would like to participate in follow-up research, such as evaluating additional prototypes, colors, styles, or trials, please contact us at: inquiries@areolatattoo.ca
Patients are saying…
(Body, Mind, Spirit 2010: National Conference for Young Women Living with Breast Cancer):
"I just completed your online survey, and wanted to take a moment to tell you how pleased I am with your temporary tattoos. I received a sample at a the conference(*) and I must tell you that I would never have considered purchasing a product like this unless I tried it. I honestly didn't think that not having nipples mattered to me at all!"
"I tried them on since they were in the conference gift bag, and was so so so pleasantly surprised to discover how much difference they made to my appearance, and to how I feel about what I see in the mirror. It has made me reconsider the idea of a permanent tattoo, but since I am not ready for that just yet, your temporary ones are a fabulous option. (I am willing to bet that there is a big market out there, but that many women (like me) would not realize how great this could be unless they had a chance to try it first...you may need to keep handing out free samples to reach your target market!). Best of luck with your endeavor!"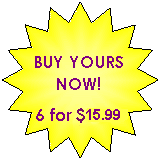 If you have any questions or are ready to order CALL NOW!
416.972.7636 or 1.877.972.7636 OR
email us inquiries@areolatattoo.ca
Get 6 areola tattoos on ONE sheet for only $15.99
OR buy 2 sheets and get one sheet FREE $31.99
We accept Visa, MasterCard, AMEX, cheques, Money orders and Cash on Delivery (COD).
We ship anywhere in the world.