The following are the most frequently asked questions about removable, temporary eyebrow tattoos designed and manufactured by iBrowsers™ Canada.
If you do not find the answer to your question, please contact us.
What are iBrowsers?
iBrowsers are semi-permanent, removable, temporary cosmetic tattoo eyebrows ideal for an active lifestyle. Unlike eyebrow pencils, they are waterproof and can be worn when showering, exercising, or swimming.
Who needs iBrowsers?
iBrowsers are recommended for people with hair loss from alopecia, medication, illness, or excessive tweezing. They are realistic or "natural" looking and give the illusion of real eyebrows instantly!
Can I use iBrowsers to extend the length of my short eyebrows?
Many people have short eyebrows and use an eyebrow pencil to lengthen them – but now you have an alternative.
You can cut, shape, and position the iBrowsers to enhance or "extend" your eyebrows. They look natural and blend in with your own eyebrows -- no one will know that you are wearing iBrowsers.
| | | |
| --- | --- | --- |
| Before | Measure, cut and apply | After |
What colors are available?
iBrowsers are available in various
styles and colors
such as blond, gray, auburn, light brown, medium brown, and dark brown.
If your hair is blond or gray, select the blond tone. If your hair is brown or black, select the shade that is approximately two shades lighter than your hair color.
We recommend that women of color choose dark brown to complement their skin tone.
How do iBrowsers compare to human hair false eyebrows?
They are most affordable. They always stick on well because there is no glue or other adhesives to use. Many people purchase iBrowsers after having tried the "artificial" human hair alternatives.
Can I go swimming or workout while wearing these eyebrows?
iBrowsers are waterproof and should remain intact while swimming, showering, or sweating but be careful not to scratch them or rub them with a towel. Simply pat your forehead dry when you needed.
Are wearing iBrowsers going to be expensive?
iBrowsers are very affordable. Replacing them on a daily basis will cost you about $2 a week (less than a cup of Starbucks coffee). They are an inexpensive and quick way to regain your confidence and appearance.
Why are the colors of iBrowsers so different from real eyebrows?
iBrowsers colors appear "greenish" in tint because they are semi-transparent. When placed on the skin, the skin's own natural tones show through. Since the skin's tones tend to be pink in color, the combination of the "greenish" tint and the pink skin tone make them appear soft and natural.
How long will they last?
iBrowsers will last from one to three days depending on your activities and how oily your skin is.
Can I use iBrowsers to cover fading permanent tattooed eyebrows?
In a word, yes. These are a perfect alternative to cover faded permanent tattooed eyebrows. They are very easy to apply by just using water. No headbands, glue, or other adhesives are needed.
Can I apply iBrowsers over existing hair?
Yes, iBrowsers can be applied over velous (fine or thin) hair, but not too much hair. They will not adhere to existing hairs in the same way they do to clean, hair-free skin. Therefore, iBrowsers will last longer when there is no hair. Wild, unruly hairs should be tweezed before applying iBrowsers.
Do I need to shave off my own eyebrow hair?
No but you need to keep in mind that the temporary tattoo will only stick to skin and not to hair. As noted in the above answer.
Remember, iBrowsers are specifically made for people with little or not hair. Also, by choosing different styles and colors, it's a perfect way to change your look in an instant unlike having a permanent tattoo. They are designed for the person who wears eyebrow pencil or has very little eyebrow hair.
How do they work?
Just like the tattoos children get in bubblegum packages, iBrowsers are simply transfers that adhere to the skin and are transferred by water. Simply cut out the pattern with scissors and place it on your skin using the sticky side and align both sides using the line on the backing.
You can use a ruler to line up the fronts by laying it along side your nose and putting a dot with eyebrow pencil to indicate the beginning so that the designs are spaced evenly between the eyes.
NOTE: detailed instructions are included in every package.
Is it possible to give my iBrowsers more or less of an arch?
Absolutely! Reducing or increasing the appearance of an arch is as simple as adjusting the placement of the iBrowsers on your brow line by raising the far end up or down. You may also simply trim off the existing arch to create a more rounded look or trim half of the brow to create a more dramatic arch. After application, you may also further modify the color/shape of iBrowsers with the use of a brow pencil or powder.
How wet do I need to make the backing before it slides off?
You should wet it liberally using a cotton ball or spray water bottle. The tattoo backing needs a good soaking to penetrate through to the transfer and only the skin. This also helps eliminate the light adhesive that can sometimes show around the eyebrows and make them look shiny.
Can I use makeup, sunscreen or powders on top of them?
YES! Be sure that these products are water based or non-oily to prevent deterioration or removal of the iBrowsers. Powders are recommended to reduce any glossy appearance.
How do I take them off?
iBrowsers are meant to be temporary and are therefore easy to remove. Simply use an oily product like baby oil on a cotton ball or a cosmetic makeup remover. An even easier way is to place a strip of adhesive tape (scotch tape) over the entire transfer and pull it off gently. You can use alcohol but it can be harsh and drying on your skin.
Sometimes the eyebrows look shiny. How do I remove the shine?
The shine is caused by excess adhesive. Wait until they are completely dry, then wipe them with a washcloth or gently wash them with warm soapy water. Then pat them dry.
Can I wear makeup while wearing iBrowsers?
Yes! Apply iBrowsers first to skin that is free of any makeup or moisturizers then you may apply your makeup.
Did you know that applying a darker or lighter eye shadow accentuates your eyebrow color?
How do I order iBrowsers? What are my payment options?
To order your iBrowsers please go to the "Order" page option that is in the "Menu" on the left side of the "Home" page. On the "Order" page you fill in your personal information then select the iBrowsers design and quantity that you want to order. Then please select the Method of Payment and Shipping Type. You will have to then scroll down the Order page to where it says Submit Order and below that you will see a graphic that looks like this.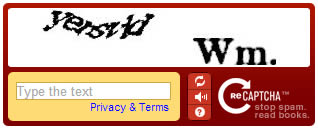 The words in the graphic may not be the same as what is shown above but that is not important. Before you can click on the "SUBMIT" button that is below the graphic shown above you must first enter the words that you will see in the graphic, into the box that says "Type the text". After entering the words in the box that says "Type the text" click on the "SUBMIT" button. If you cannot read the words, click on the first symbol to the right of the "Type the text" box and you will get another set of words. After correctly entering the words that are displayed you can click on the "SUBMIT" button and you will be taken to the PayPal website for payment.
When you get to the PayPal website you can pay using a credit card. You do not have to have a PayPal account to pay for your order, but, if you want to set up an account at the time of your order, it literally only takes a couple of minutes. Your account will then be available to you for future purchases.
If you want to pay by personal or business cheque (check) please send an email to order@ibrowsers.ca so that we may respond to your payment option request.
How long will it take for me to get my order?
Orders are filled immediately. If you live in North America, allow 7-10 business days for delivery. If you have placed an international order it could take longer depending on the customs department in your country.