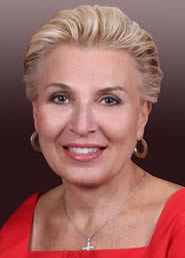 Dorothy Kizoff is the owner of Dorothy Kizoff's Permanent Make-Up Artistry, Para-Medical Artisans, and iBrowsers™ Canada.
Her clients are from all walks of life and Dorothy treats each client with the most thorough and professional care using the highest industry standards of sterilization in the Micro Pigment Implantation field.
Twenty years ago, when Dorothy began her career in the heart of Toronto's Yorkville Area, the industry was virtually non-existent. As a pioneer, bringing the possibilities of permanent make-up to the medical community and the public at large, Dorothy has become the leading expert in the art and science of permanent make-up, and is sought out by people from all parts of the world for her artistic and technical expertise. She has written several articles on cosmetic tattooing, permanent make-up and its para-medical application, and has lectured internationally on these subjects.
As well, Dorothy has worked extensively with the medical community to bring new possibilities for the para-medical application of her permanent make-up artistry. She has established an excellent working relationship with over 60 plastic surgeons, dermatologists, and others in the medical community who regularly refer their patients.
Based on Dorothy's experience as a highly respected cosmetic tattooist, she recognized that many women could not travel to see her and have their eyebrows professionally tattooed. As such, she created and then manufactured four stylish designs and named them iBrowsers™. They have been sold in Canada since 2000. Based on customer feedback, nine new styles and sample packs were added in 2010.
Dorothy has performed numerous areola tattoo repigmentation procedures for women who have had breast reconstruction surgery. She recognizes that many women are neither aware nor can find an 'expert' to perform the procedure.  Based on this need, she invented and designed temporary, removable areola tattoos.  She has worked with many patients to test prototypes to refine the designs in shape and color, resulting in three styles now available for purchase in light, medium and dark skin tones.
Professional Profile
Twenty years practical experience in Micro Pigment Implantation
Certificate of Training, Pulsed-Light Laser and Laser Tattoo Removal, 2004
Apprenticeship and Graduation from the American Centre for Cosmetic Creation in Micro Pigmentation, 1992
Certified Clinical Electrologist from the National Commission for Electrologist Certification, 1990
Certified Professional Electrologist from the Federation of Canadian Electrolysis Association, 1990
President, Electrolysis Association of Ontario, 1992-1993
Published author and International Speaker
Inventor, iBrowers™ (temporary, removable cosmetic eyebrow tattoos)
Inventor, Areola Tattoo (temporary, removable tattoos for post-mastectomy and breast reconstruction patients)